The year under review leaves indelible marks that shape the history of Quirino State University through the concerted efforts of both internal and external stakeholders as it trails towards its vision of becoming the leading center for academic and technological excellence and prime catalyst for a progressive Quirino province and beyond. Remarkable accomplishments of the University are undertaken as this year made a spectacular turning point especially in the transformations and massive developments of its physical plant and facilities. Various developments in the different mandated functions of the institution are likewise observed and these are embodied in this report.
GENERAL ADMINISTRATION AND FINANCE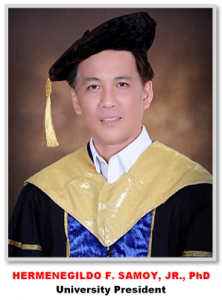 Dr. Hermenegildo F. Samoy, Jr. took his oath as the new President of the university during the Special Board last January 7, 2020 at CHED Office, Quezon City, Manila.  Consequently, a Ceremonial Turn-over of QSU Presidency was held at the University gymnasium last January13, 2020 where Dr. Samuel O. Benigno, the outgoing president symbolically handed-over the QSU to the new president Dr. Hermenegildo F. Samoy, Jr.
On September 20, 2020, The Civil Service Commission awarded QSU Maturity Level 2 in recruitment, selection and placement, learning and development, performance management, and rewards and recognition. Moreover, The Quirino State University (QSU) was listed as a member of SEAMEO Schools Network last December 16, 2020.
QSU has taken different initiatives to help combat the pandemic CoVid-19 dubbed as "QSU, We Heal as One, We Help as One".  Aside from that, the University co-planned, co-organized, and co-facilitated the PROJECT NEW NORMAL: A WEBINAR SERIES, a joint project of Quirino Provincial Government, Quirino State University, and DepEd Quirino wherein selected faculty and staff of the university served as resource speakers in various topics during the Webinar Series. It is a webinar intended for the parents on teaching them how to teach, guide, and facilitate their children's learning under the new normal of education.
Due to the COVID-19 Pandemic wherein the whole country was placed under Enhanced Community Quarantine from March 16, 2020 to April 30, 2020, the planned Women's Month Celebration did not push through. However, each personnel were given a GAD t-shirt which should have been the outfit for the Women's Month Celebration. The 8th Charter DAY Celebration was done through a livestreaming on the official Facebook page of the university. Along with the livestreaming is the awarding of notable accomplishments were given to employees and loyalty awards to those who served the University for ten years and above. There were 25 employees who were given loyalty awards during the said occasion. Furthermore, QSU aired its very first University Christmas ID through its official Facebook page last December 23, 2020 to spread hope and unity amidst pandemic.
With regard to the university personnel profile, eleven staff personnel retired from service. There were four newly appointed regular faculty and two were newly appointed/promoted regular staff. To sum-up the University personnel, there are 304 (67.26%) faculty and 148 (32.74%) staff; a total of 262 (57.97%) regular employees, 189 (41.81%) on contract-of-service status and 1 (0.22%) casual staff. Thus, QSU has a total of 452 personnel. As to academic rank (permanent employees only) there are 98 (54.44%) instructors, 45 (25%) assistant professors, 31 (17.22%) associate professors and six (3.33%) professors. As to faculty scholarships, there are sixty-three (63) CHED scholars under the K-12 Transition Program. On educational attainment of regular/permanent faculty, there are 30 (16.67%) baccalaureate degree holders, 120 (66.67%) are master's graduate and 30 (16.67%) doctorate degree holders.
In line with physical improvement, improvement of three buildings at Diffun campus were completed, as well as the upgrading of banana tissue nursery. Moreover, the construction of seventy spans of concrete fence was likewise completed. For Cabarroguis campus, the construction of women's dormitory and phase-1 of underground electrical system are still on-going. However, the improvement of the gymnasium and administration building of Maddela campus were already completed. At present, the improvement of old CHIM building is still on-going.
The university has a budgetary allocation of Php 209,351,000.00 for FY 2020. As to university income, Php 74,499,314.64 was derived from sources such as lease of property, sales revenue, tuition, fiduciary fees, and other collectibles of the whole university.
HIGHER AND ADVANCED EDUCATION SERVICES
Graduation figures for AY 2019-2020 dwindled in Diffun campus and Cabarroguis campus as compared to AY 2018-2019 by 57.79% and 35.29% respectively. However, an increase of 25.71% for Maddela campus is noted. The year under review has a very modest data in terms of graduation rates.
The comparative data on enrolment for the first semesters of AY 2019-2020 over AY 2020-2021 depicted a notable increase of 14.31%. However, it is noted that the TECH-VOC and Secondary Education Program showed a decrease of 67.5% and 95.24% respectively. Despite of this, an overall increase registered across all campuses is evident. In comparison of the second semesters of AY 2018-2019 over AY 2019-2020, data portrayed an increase of 10.63%.
Due to the pandemic, the board examinations were postponed in adherence to health protocols.  However, on November 2019, the Criminology students had their licensure exam and the results went out before the pandemic.  In comparison to the university's overall average performance with the national percentage passing rate along Licensure Examination for Criminologists, it is gleaned from the table that the university's rating obtained an overall average performance above the national percentage passing rate.
As to accreditation status, two programs (BSE & BEED) on Level II status of the College of Teacher Education (Diffun Campus) passed Phase 1 of two phases for Level III and under compliance to some areas for Phase 2 while five programs (BSA, BSIT, BSCrim, BSHM & BSND) were re-accredited on Level II status. Moreover, BSOA (Diffun Campus), BSA and BSHM (Maddela Campus)  was accredited for Level I while eight programs of Cabrroguis campus BAELS, BEED, BSBA, BSCE, BSCS, BSCrim, BSHM AND BSM are on candidate status.
Students are also involved in research ventures for further academic skills training and development. Besides, they are also given opportunities to unleash their potentials through their participation to various co- curricular activities.
Faculty members and support staff are also sent to national and international trainings, seminars, conferences and other endeavors. Albeit pandemic, the faculty members still attended various seminars and workshops.
RESEARCH AND DEVELOPMENT SERVICES
The University Research and Development Office together with faculty – researchers, staff, students and administrators continues to adhere to its goal of generating relevant knowledge and responsive technologies through carrying out quality research.
The University's performance was marked with rewarding projects and researches as external agencies provided ample monetary amounts which augmented the department's fund. Thus, more projects were being managed by the QSU Research Department in collaboration with its stakeholders.
Specifically, there were ninety-two (92) completed and forty-three (43) on-going researches/projects and one hundred seventy-six (176) research presentations in various conferences/foras from local to international levels. Moreover, online and print refereed journal articles from the Department were published by international publications.
EXTENSION AND TRAINING SERVICES
One of the mandated functions of the university is to contribute in the improvement of quality life in the province and beyond. This involves the popularization and application of new knowledge and appropriate technologies generated by the institution which are extended to the different sectors of the society through the ETS department. Through various extension activities, people are empowered with appropriate knowledge, attitudes and skills. Together with the committed and competent staff of the department matched with its functional resources and facilities, ETS continues to carry out its function as catalyst for countryside development. For 2020, a total of 9,391 persons benefitted on these extension and training services of the university.